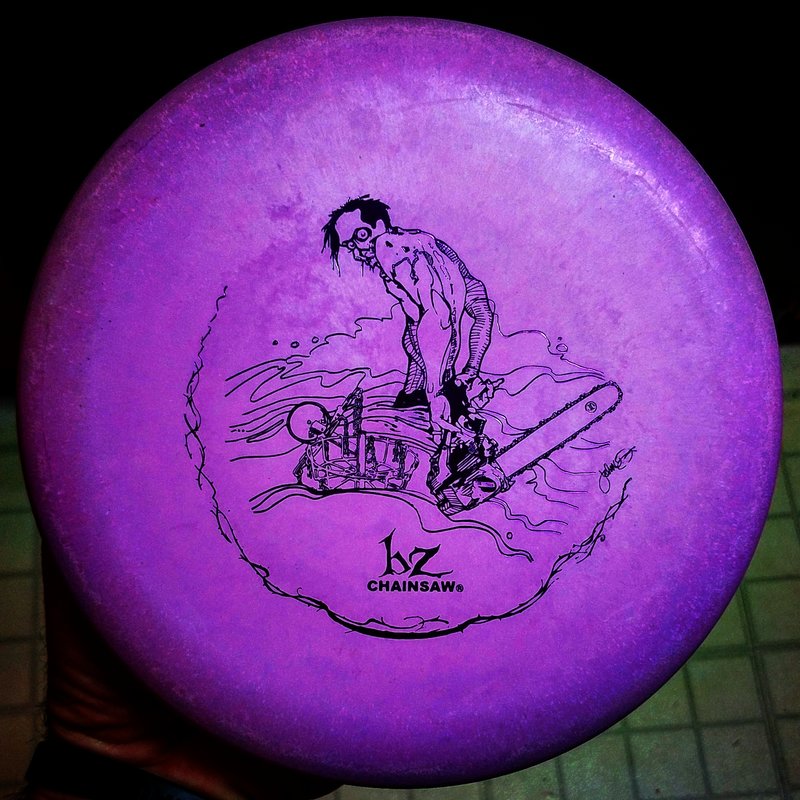 THE CHAINSAW IS BZ SPORTS FIRST GOLF DISC. IT IS MANUFACTURED BY GATEWAY DISC SPORTS.
IT IS A STABLE TO SLIGHTLY OVERSTABLE PUTTER THAT WILL HOLD ANY LINE BASED ON YOUR RELEASE ANGLE AND MAINTAINS A WELL-CONTROLLED FLIGHTPATH. IT IS AN EXCELLENT PUTTER FOR DRIVING WHILE HAVING THAT PERFECT STABILITY INSIDE THE PUTTING CIRCLE AS WELL. IT IS A POINT-AND-SHOOT MASTERPIECE THAT WILL STAY CLOSE TO THE BASKET WHEN YOUR PUTT AND APPROACH GAME NEEDS DEPENDABLE ACCURACY.

IT HAS A WIZARD TOP WITH A MODIFIED BOTTOM THAT FEELS GREAT IN THE HAND, WHILE NOT BEING QUITE AS OVERSTABLE AS THE WIZARD. IT IS BEING PRODUCED IN SEVERAL BLENDS THAT HAVE DIFFERENT GRIPS AND FIRMNESS AVAILABLE TO SUIT ANY PLAYER'S PERSONAL PREFERENCE.